In 1949, well-known Australian aviatrix Nancy-Bird Walton invited a group of women pilots to meet for morning tea in Sydney. It was from this meeting that the idea of forming an association emerged. The innaugural meeting was held on the 16 September 1950 at Bankstown, with 49 women pilots attending. Within 12 months, there were branches in New South Wales, Queensland, Victoria, South Australia and Western Australia, followed several years later by Tasmania and the Northern Territory. The association now has over 500 members.
The aims of the Association adopted in 1952 are to:
foster closer relationships and unity among women pilo
assist women to undertake flying in Australia and elsewhere
develop public interest in aviation, especially among women, and
assist in the development of aviation in general.
The association organises social activities, organised fly-ins, educational workshops, navigation trials, mentoring, meetings, guest speakers and actively supports aviation associations and clubs with a similar focus. The Association is partcularly proud of its part in having women accepted across the aviation spectrum and will continue to support and encourage women pilots to achieve their dreams. For more information visit the
Australian Women Pilots Association Website.
SAAM has recently taken delivery of McDonnell-Douglas FA-18 Hornet (RAAF A21-32). Keen observers will notice that the name of the pilot on the LHS of the aircraft is FLTLT E. Willis "SWAT". Emily Willis, is one of a select number of female fighter pilots in the RAAF. SAAM members and invited guests were able to meet Emily as she was at SAAM for the official handover of the Hornet. The RAAF also sponsors its female pilots to be members of the Australian Women Pilots' Association.
You can see Em on Youtube at
https://www.youtube.com/watch?v=wQlvwUbPtpU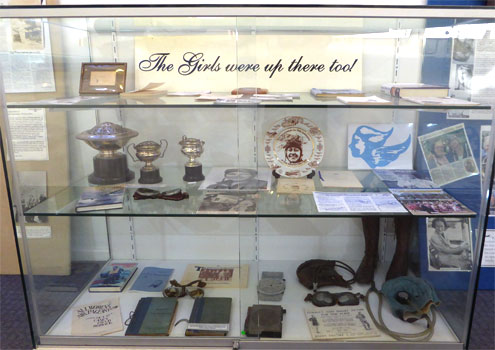 SAAM's display features stories and historical artifacts of known and (relatively) unknown women pilots. Some are mentioned below.

Amy Johnson- First woman to fly solo UK to Australia (1930)
Florence Taylor & Emma Scultz - First Australian women to fly (1909)
Millicent Maude Bryant - First woman to be licensed to fly in Australia (1926)
Lores Bonney -First woman to circumnavigate Australia (1932)
Freda Thompson - First Australian woman to fly solo from UK to Australia (1934)