Badges, Medals & Insignia Page
SAAM has a small number of Badges, Medals and Insignia on display, where relevant to the display. We also have a significant collection in storage for use in future displays and for reference and preservation purposes.
RAAF Flying Insignia
In 1911, Australia established the Central Flying School at Point Cook, Victoria. The first training group was formed on 17 August 1914. These aviators were to become the Australian Flying Corps [AFC]. In 1919, it was temporarily replaced by the Australian Air Corps [AAC].



During WW1, some Australians flew with the RFC and some with the AFC. A case in point is South Australians, Sir Ross & Sir Keith Smith. Ross flew with the AFC and Keith flew with the RFC. The early RFC Pilot Badge has the wings of a swift, and a Tudor Crown


The RAAF was formed in 1921. The early RAAF Pilot Badge has the wings of a swift, and a Tudor Crown (very similar to the RAF Pilot Badge). In 1952, upon the coronation of Queen Elizabeth, the crown was changed to the St. Edward's Crown



SAAM Collection Examples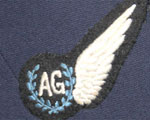 Air Gunner
RAAF WW2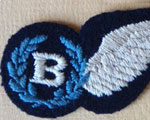 Bomb Aimer
RAAF WW2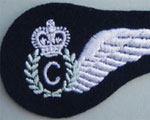 Crewman
RAAF 1980-1998
Crewman Bullion
RAAF 1980-1998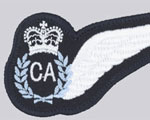 Crew Attendant
RAAF 2001-current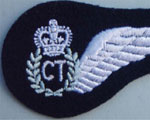 Crewman Tech.
RAAF 1955-1997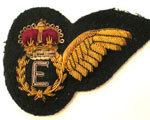 Engineer
RAAF 1955-1997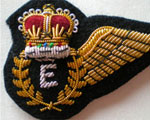 Engineer
RAAF Current Issue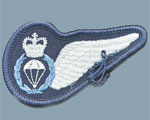 Parachute Jump
Instructor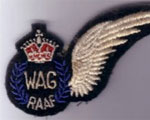 Wireless Air Gunner
Unofficial (EATS?)
Other Examples in Storage
Airforce Association Badges
Australian Army Aviation Corp Badges
Cessna Pins
Qantas, TAA & Ansett Badges & Pins
RAAF Bomb Disposal Badge
RAAF Christian Chaplain Badge
RAAF Dental Branch Badges
RAAF Education Officer
RAAF Leading Airman (propellor) Badges
RAAF Medical Officer Badges
RAAF Officers Badge
RAAF Returned from Active Service badges
RAAF Wireless Operator
RAAF Warrant Officer Badges
RAAF Sweetheart Badges (not official)
Royal Aero Club Badges & Pins (several states)
Telegraphist Special Operator (possibly Navy)